Wildland Training Courses
Classes in the state of Oregon more than 2 hours' distance from NFTCA office in Philomath will incur a $20/student surcharge
Classes held outside the state of Oregon will incur a $25/student surcharge
All wildland fire classes are subject to an additional $10/student fee for certificates and ID card printing
L-280: Followership to Leadership (16 Hours)
Base Cost: $150/Person
Subject Areas Include: leadership values and principles, transition challenges for new leaders, situational leadership, team building, and ethical decision-making.
S-130/190: Basic Firefighter Training (40 Hours)
Base Cost: $165/Person
The purpose of this course is to train type II Wildland firefighters in basic firefighting skills.
S-131/133: Squad Boss Training (10 Hours)
Base Cost: $90/Person
Demonstrate the ability to use fire line reference tools to facilitate the communication and decision making processes. Look up, Look down, Look around.
S-200: Initial Attack Incident Commander Type 4 (ICT4) (16 Hours)
Base Cost: $110/Person
Designed to provide the individual in charge of the initial attack of small, non-complex fires the training needed for readiness and mobilization, size-p of the fire; and the administrative requirements that must be completed by the incident commander.
S-211: Portable Pumps and Water Use (24 Hours)
Base Cost: $165/Person
Upon successful completion of this course, the student will: select equipment required to maintain flow of water as required by the incident; install pump, hose lays, and holding tanks to provide water for use during all phases of the incident; and perform required field maintenance on a portable pump.
S-215 Fire Operations in the Wildland/Urban Interface (28 Hours)
Base Cost: $180/Person
This course provides the student with the skills and knowledge to size-up a wildland/urban interface fire incident, evaluate the potential situation, order and deploy the necessary resources, and apply safe and effective strategy and tactics to minimize the threat to life and property.
S-231: Engine Boss (16 Hours)
Base Cost: $165/Person
Upon completion students will be able to perform the task of an engine boss in making the tactical decisions required to safely manage an engine and personnel on an incident.
S-234 Ignition Operations (32 Hours)
Base Cost: $210/Person
Upon completion of this course students will be able to: describe the rules and responsibilities of the single resource boss-firing and prescribed fire ignition specialist, identify resources needed to conduct an ignition operation for a wildland or prescribed fire, develop an ignition plan demonstrating the knowledge of fire behavior, firing techniques, and holding hazard.
S-230: Crew Boss (Single Resource) (32 Hours)
Base Cost: $165/Person
Upon successful completion of this course, students will: describe the crew boss responsibilities prior to and during mobilization, on the incident, and during demobilization; identify the hazards and risks on various incidents and describe how to mitigate them; and describe tactics that are appropriate to various wildland fire situations and implement them through the chain of command.
S-270: Basic Air Operations (16 Hours)
Base Cost: $110/Person
The course covers aircraft types and capabilities, aviation management and safety, tactical and logistical uses of aircraft, and requirements for helicopter take-off and landing areas.
S-290: Intermediate Wildland Fire Behavior (32 Hours)
Base Cost: $205/Person
This course is designed to instruct prospective fire line supervisors in wildland fire behavior for effective and safe fire management operations.
S-330: Task Force/ Strike Team Leader (24 Hours)
Base Cost: $250/Person
Facilitated through class discussions, periodic exercise updates provide incident flow from mobilization through demobilization.
Defensive Driving (16 Hours)
Base Cost: $160/Person
Suggested training for all fire drivers, contains the knowledge and skills required to safely and effectively operate vehicles in most environments. The course covers basic maintenance vehicle readiness for operators to act in a professional manor when operating vehicles. A large portion of this course time is devoted to actual driving exercises.
First Aid/CPR/AED
Cost: $50/Person
Teach you how to administer CPR and First Aid and use an Automated External Defibrillator (AED). You'll learn how to handle emergency situations, take basic precautions to prevent disease transmission, care for injuries or sudden illness until advanced medical help arrives, help someone in breathing and cardiac emergencies, administer chest compressions and use an Automated External Defibrillator (AED). This class also teaches you to care for life-threatening bleeding, sudden illness, shock and injury.
Oregon State Flagger Certification
Cost: $90/Person
The Flagger Certification Course was developed to provide Flaggers with the basic knowledge, information and awareness to perform their jobs safely. Flaggers are responsible for the public safety and make the greatest number of contacts with the public of all highway workers; they should be trained in safe traffic control practices and public contact techniques.
"Over 16 years of wildland firefighting and slash burning, my crews have not ever been caught in a bad situation. I give a lot of credit to John Berger and his staff for professional and high quality training."
Keith Whitehead – Whitehead Reforestation LLC, owner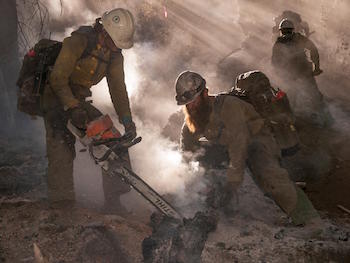 Registration Requirements
If you are planning on taking a course for a position requiring a Light Sport Aircraft certification; a copy of your certificate is required upon the first day of the course.
RT-130 classes scheduled in the Philomath and Salem area must have a minimum of 15 people, or the class will be subject to cancellation. Out of town RT-130 classes are a minimum of 25 people. You will be charged for no-shows at the rate of 50% of the total class cost.
All courses will be either English or Spanish, not both. If an exception is made, the cost of the class will increase due to the addition of an interpreter.
All classes will require a manifest submitted to our office for registration along with 50% of the class cost no later than two (2) business days (M-F is considered business days) prior to the scheduled class. Failure to comply will result in no training. You will be charged full price for no-shows based on the manifest provided.
Additional Services
NFTCA staff are available to assist with fire history and training data entry at a cost of $30/hour, or $50/hour for after-hours support. (Charges for these services will be billed at 1 hour minimum)
PNWCG Approved Wildland Firefighter Training
The Pacific Northwest Wildfire Coordinating Group (PNWCG) had broad responsibility for coordination of firefighting resources within the Pacific Northwest Geographic Area. These responsibilities include oversight of training management and providing certified fire training and ICS position certification for member agencies. The PNWCG believes that to provide the highest level of safety and productivity, all resources utilized on fire suppression incidents within the Pacific Northwest must meet or exceed all training, experience, and physical fitness standards identified in the NWCG Wildland and Prescribed Fire Qualification System Guide (PMS 310-1).
NFTCA believes in the same standard of training, and enters into a Memorandum of Understanding (MOU) each year with the PNWCG. A signed MOU ensures that NFTCA meets or exceeds NWCG training standards through active monitoring by the PNWCG. NFTCA has completed its review by the PNWCG and currently has a signed MOU for wildland fire training. Contact NFTCA at 541 929-7802 with questions or to schedule a class.